What you see on this page:
After entering you'll see a table with fields' names of a database table which you chose for your search, places where you should type down a criteria of your search (for example, a name of a person, a date, a title, Classifier theme, etc.), and checked boxes(by default it's checked), part of which you can uncheck if you don't need them in your search's results.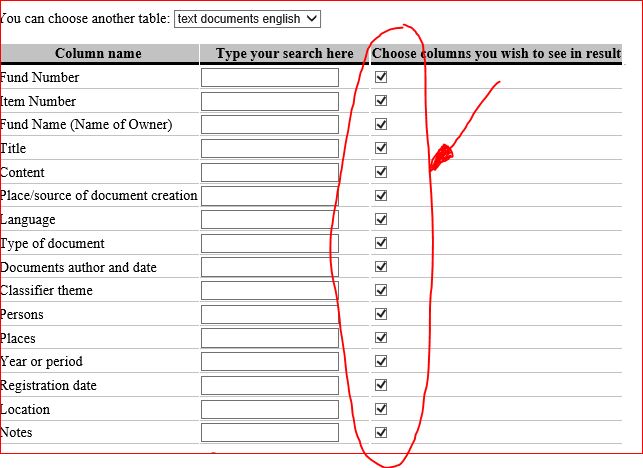 What you can do on this page to make a search:
Choose a table you want to make a search in from a pull-down menu above the table.
Type down your search criteria (one or several) in a corresponding field/fields.
If you are not sure about right way of writing of one of the fields in search, then you can type a part of the word. For example by typing "abi" for searching out Rabinovich, or "mo" for searching out "Moscow".
If you need to see all entries of chosen table with all fields, then you should run search without filling any search criteria into the fields in chosen table.
It is reasonable for any search to include three first fields: Fund Number, Item Number and Fund Name (Owner's Name) for full identification of future search results prints. It is important to take into account, that in all database tables except "Videocassettes archive" the fields by name "Item Number" has unique value for each record which serves as an unique identifier of each particular record, and hence it must be included into any search in any case. In the "Videocassettes archive" this unique role plays a field "Subject number".
Click on a button "Submit" and you'll see a database table which includes your search's results only.
Please do not use key "Back" to return to previous page. In most of the cases it would not work. If you need to get to a page or a stage that you was there before, then you should make your way to it from the begining.
​If you need additional help you should click on the "Help with this page" button.